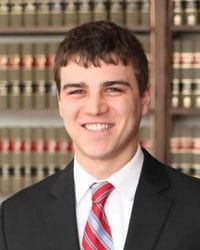 Attorney:
Social Security Disability
Adam Kachelski graduated from Creighton University in 2011 and the University of Wisconsin Law School in 2014. He practiced general law immediately after law school. He began practicing Social Security Disability Law for Hoglund, Chwialkowski, & Mrozik in June of 2015 with the firm's Cincinnati office. He now primarily spends time in the firm's Milwaukee office, but has appeared at hearings presided over by administrative law judges in 15 states. He works diligently with clients and the Social Security Administration to achieve positive results. To achieve those results, he strives to know the law, the evidence, and his clients. He accomplishes this through thorough case preparation and research of Social Security's rules and regulations independently, with his coworkers, and through Social Security Disability Law conferences and seminars. These seminars have included presentations from administrative law judges, medical experts, vocational experts, and Administration personnel regarding medical listing changes, competitive workforce analysis, and zealous, ethical representation of Social Security Disability claimants.
His proudest professional moments occur when he helps clients secure their disability benefits and impact their lives for the better. He greatly enjoys assisting clients through every stage of the complex Social Security Disability adjudication process and believes that this process is a collaborative endeavor, requiring clear communication between attorney and client.
Outside of the office, Adam likes to travel, read, play trivia, watch movies, and take in Wisconsin sports of all kinds when not spending time with his dog, Calvin.
Education:
Undergraduate degree: Creighton University, Class of 2011, Bachelor of Arts, Political Science, graduated magna cum laude, with honors in history and political science.
Professional Associations: